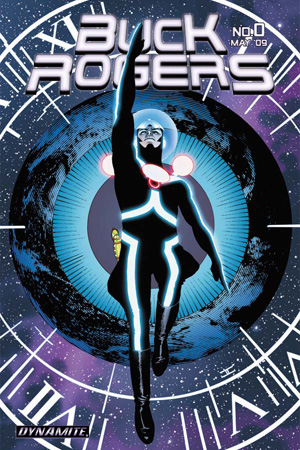 I bought two copies of this because I figured, "Hell, it's 25 cents!"  In the end, that's kind of what defines it.
The artwork looks great with that super-future, reality, neat spacesuits type of pencilling.  I think that the suits really are probably the coolest part of the whole comic… the glow is awesome.
The story… okay.
I feel like this #0 is setting everything up down the line, and that the next issue #1 is going to take place before the big event at the end of this issue to explain how they got there.
I enjoy that the narration by Buck is actually the suit recording his thoughts… there's a nice play of time within the comic by doing that which causes one frame in particular – to me – to seem rather funny.  The gigantic Parameciums really aren't anything I haven't seen before (I believe the Sinestro Corps has a guy that looks similar), but I really enjoy how they're pulled off in this.  I agree with the review from comicbookresources that Buck's kid(s) look way too old based on how he looks, but maybe there's some weird time travelling involved.
Ultimately, pick this up.  You can keep it if you like it or just pass it on to someone else because in the end it only cost you a quarter (plus tax, possibly), and it's a short, interesting read.
4/5 stars
I really want to give it 3.75 stars, but I'm still not sure how I'm going to do my rating system.